We Are Now The Best Web Development Company in Barabanki
After its tremendous success as the best web development company in Lucknow, Appinnovix Technologies is now all set to win the title of 'The Best Web Development Company in Barabanki.' Appinnovix Technologies proudly opens a new web and app development service branch in Barabanki. We are now determined to bring about a digital revolution in each of the districts in Uttar Pradesh!
Website Development | Ecommerce Development | Mobile App Development
How We Work
With 8+ successful years of our journey as the best Web Development Company in Barabanki, Appinnovix Technologies have always prioritized the needs of our customers. Apart from serving the web development needs of national and international big corporates, we have also prompted digitalization in small start-ups in India. Throughout our journey, we have provided the best web and app development services of premium quality at a pocket-friendly web development cost. At Appinnovix Technologies, we always try to-
Requirements Gathering
Our Customer is our pride and priority. So, Appinnovix first listens to your needs carefully and then our web developers suggest the best solution for your business. We never strive to suggest anything unnecessary in our website design and development services to levy extra charges unfairly. In fact, our web developers will always try to offer you the best in your budget.
Designing
Once we understand your needs completely, we command the best suitable team of web developers for you. Appinnovix Technologies houses specialized designer teams for different web development services. Presently, we have 50+ developer teams specializing in Website Design, WordPress Development, E-Commerce Website Development, SEO, SMO, Digital Marketing, Software Development, and App Development.
Development
After finalise Design part our developer will start the work on that.  Moreover, you can also avail of HRM, NIDHI, Invoice, and MLM Software development services from the Appinnovix Barabanki branch. And whether it's iOS development or Android Development, Appinnovix will address all kinds of mobile app development needs as well in Barabanki. We also have expertise in Social Media Marketing and Management.
Test & Deployment
Apart from having the best team of web developers, Appinnovix Barabanki also houses an expert team of testing engineers. Our testing engineers will run more than 3 trials before delivering your specialized web solutions. Once tested against the highest standards and have completed all our quality checks, Appinnovix will approach the deployment stage. Moreover, so far Appinnovix Technologies is the only web development company in Barabanki that promises support in the post-deployment period as well!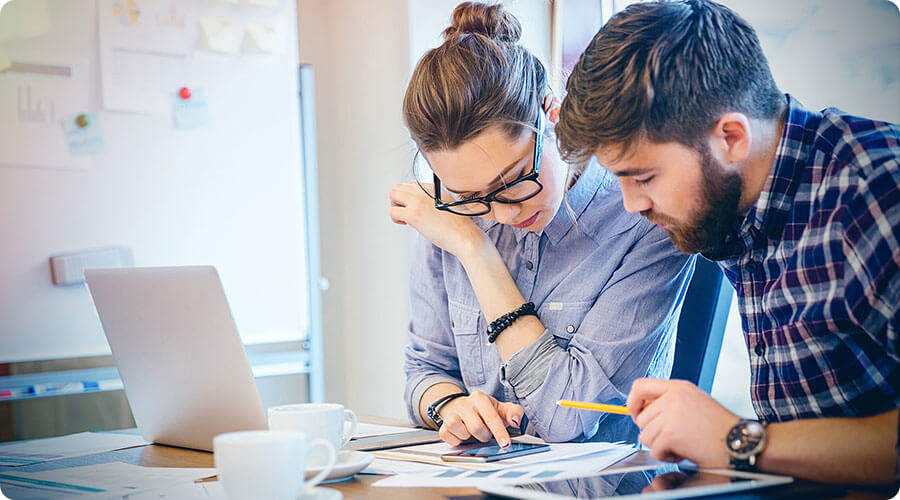 Ethos That Appinnovix the Best Web Development Company Rests Upon
Being the best web development company in the world is not an easy job. One needs to have high values, valor, and ethos. And Appinnovix has always followed certain ethos to hold the title of 'best web and app development company' in India and abroad alike! Our core ethos and values include.
Customer Retention and Obsession
We work out of our passion for web design and development. So, we always prioritize the welfare of our customers over our business profit. And that's what helped us in retaining customers as old as our beginnings. Appinnovix Technologies has always tried to retain its customers by offering premium web development services at a humble price. Moreover, we have never fooled our customers by charging extra for unnecessary services.
Open Environment and Continuous Learning
We, at Appinnovix, never follow a strict organizational hierarchy. Rather, we believe in mentorship, teamwork, and open communication. Eventually, in spite of having 50+ specialized teams for different operations, we do not have 'managers' but 'leaders.' Our senior web developers mentor our junior developers helping them deliver the best web solution for the clients. Eventually, they strive to improve their web development skills simultaneously. We had a humble start with a handful of activities such as website designing and mobile app development. But today, with our continuous learning attitude we have developed expertise in WordPress Development, Digital Marketing, Software development, and iOS and Android Development as well.
Fast, Fantastic, Faithful & Flexible Services
Appinnovix has an in-house development team and we outsource to no freelancers to ensure that the work is completed on or before the deadline. Moreover, Appinnovix Technologies is not a small company with a handful of web developers. On the contrary, we are medium-sized Indian web development corporate. Eventually, our work is always professional and fast. Our developers are graduates and post-graduates in Information and Technology. And even a diploma-passed web developer or digital marketer is given vigorous and continuous training and development services. In this way, Appinnovix offers a fantastic work environment and growth opportunities to its workers. And this fantastic work environment results in the most faithful workers delivering premium quality web development services. Additionally, we are not bound by any national or international boundaries but we offer remote web development services as well. This set of qualities makes us fast, fantastic, faithful & Flexible!
Succinctness
As you know we have 10+ year experience developers in our team and we have great knowledge of all kind of Web development Services. We are easily worked on any kind of Website Development, Mobile app development, or Digital marketing services in barabanki. We have implemented successfully so many projects in our past. 
Customer Reviews and Feedback
Find how our national and international clients define us in testimonials-
Faisal Ali
I had a relatively large app to develop and worked with Appinnovix team throughout the entire process. They understood my vision and communicated with me clearly and thoughtfully. I would 100% recommend Appinnovix for any mobile app needs

Faisal Ali
Owner of Gold-Bank London
Ajay Tripathi
I have started my Nidhi Company and Appinnovix help to create beautiful website and Provide Nidhi Software.

Daisy V
I really enjoyed working with Appinnovix team. They was able to solve a very challenging problem of creating a dashboard from the scratch. I will definitely hire him again. I highly recommend Appinnovix for App and dashboard development.

Daisy V
Manager of Unicorn company UK
Vladimir K
Appinnovix team fixed a problem in my app that no one else managed to fix . I almost gave up , but he helped me a lot . I really recommend him , he is very professional and

Popular Blog Posts
Here you can see the best web development services blogs for your updates and new things.
Some Important Question.
Here are so many question comes in your mind when you start work on Web development company in Barabanki.
Feel Free to Contact Us!
Are you looking any kind of Web development services in Barabanki so feel free to contact us.